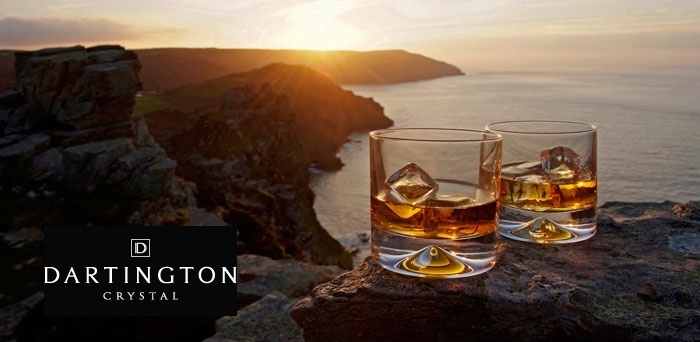 As the premier name in hand-made English crystal and the only remaining major crystal factory in the UK, Dartington Crystal & Royal Brierley enjoys an esteemed reputation amongst the most discerning clientèle.
Our Customers expect the highest standards of quality, style and service and we are proud to meet and exceed these expectations with finely crafted products and a responsive tailor-made service.
Much of the crystal range continues to be hand crafted at the Dartington factory in Devon. Since it began in 1967 Dartington Crystal has become recognised for its contemporary and clean design style, Dartington Crystal combines the ultimate in functional glass with eye-catching appeal to make it the perfect choice for your home or as a gift.
Our customers sometimes ask us what the difference is between crystal ware and glassware; we always recommend go for crystal if the budgets there and these are the reasons.
1. Crystal is weightier and more substantial than glass giving an opulent feel when in the hand.
2. Crystal is completely clear where glass production ends up with a green or yellow tinge.
3. Crystal is a fantastic reflector of light and shimmers and sparkles illuminating a fantasy dining table setting for you and your friends to enjoy.
4. Crystal has an amazing resonating ring when clinked together making every toasting at the table a special event.
5. Crystal and glass are both made from silica sand but unlike glass, crystal has a minimum 24% lead oxide and a very fine silica sand powder is used, giving it its unique composition and therefore making it possible to create amazing cuts and patterns similar to diamonds without splintering.
Dartington Glitz Crystal Collection
Shop online for Dartington Crystal Glassware at
alexanderinteriorsltd.co.uk for all you wine glasses and whiskey tumblers